Australian Shepherd Litter Born


The Australian Shepherd litter of Northbrooks Just Incredibelle has been born! There are 6 males and 2 females. 4 of them are Black Tri's and the other 4 are Blue Merle. There are3 males and 1 female of each colour.
Triwood Kennels
(Kennel Name Pending)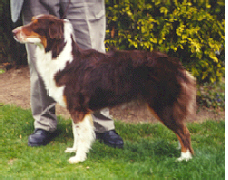 Northbrooks Just Incredibelle ("Belle") -Dam
Out of CKC CH.Northbrooks Red Hot Shelby &
AKC ASCA CH.Caledonia's Take'm By Storm
Grandsire-CH.Caledonia's Crowd Pleaser ASCA Hall of Fame
Granddam-CH.Propwash Lickety Split, littermate to ASCA Hall of Famer St. Elmo's Fire
---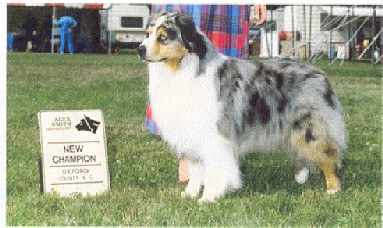 CH.Bootez Kit Cloud Kicker ("Kit") -Sire
Out of CH.Starstruck Surprise Sir Prize &
CH.Countrywoods Copper Bottomed




---
Welcome to Triwood Kennels (name pending)
Hello, we are Trixie and Ian Wood of St. Catharines, Ontario. With this litter, we'll be first time "grandparents"! We have put a great deal of thought and care into the planning of Belle's first litter. She is a two and half year old Red Tri. Her notables include agility and size in her genetic heritage. She is well-muscled and has a great side gait. Kit is a Champion Blue Merle with lots of coat and bone and a good head and stop. Both have hips and eyes cleared. Because this is our first litter, we are doing things "by the book" to ensure that the puppies have a great start. The pups are due in early June.

We invite you to contact us at lin189@niagara.com to inquire about the upcoming litter or to talk about the breed.